Become a Tie Specialist Affiliate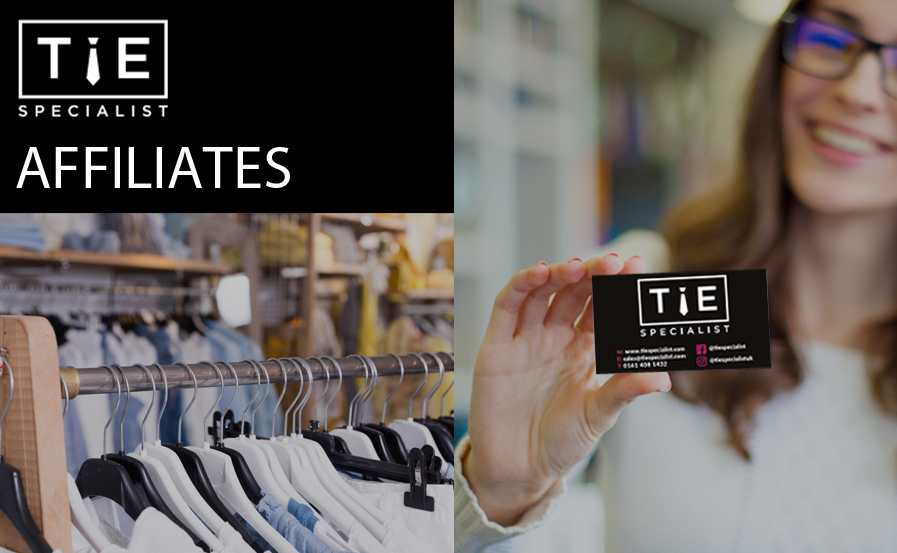 Born in 2006 Tie Specialist offer the very best in men's formalwear accessories specialising in neckwear and waistcoats. Our customers are often looking for something specific for a formal event or wedding which is why they come to us. Most of our products are exclusive to us and are our own brand so are not available anywhere else to buy.
As our main customer base is in formal events and weddings; we would like to partner with people who are on the ground and customer facing in the wedding and formal events industries.
EXAMPLES OF OUR AFFILIATES
- Formal event and wedding planners
- Formal and wedding venues
- Wedding photographers
- Wedding and formal event stationery suppliers.
- Bridal shower planners
BENEFITS
- 20% Commission on sales
- Unlimited commission
- Average order values over £70
- FREE to join
- All materials provided
WHAT YOU HAVE TO DO
- Send us an E-mail telling us you would like to join the affiliate program - Include your company name, address, e-mail and telephone number or anything else which will help us see what you do.
- We will e-mail you back to let you know if you have been accepted and send you a unique discount code to pass onto your referrals.
WHAT NEXT?
- We will post 100 of our business cards to you with a space for you to write in your unique discount code. (5% off for your referrals)
- Once your referrals use the code on our website, we know the sale has come from you.
- On the 1st May every year we will run a report which calculates any commission due. Note the reporting period will be from Jan-Dec the previous year to allow time for our customer to return products back to us.