Swirl Leaf Wedding Tie Formal Tuxedo Tie

Customer Reviews
Good quality. Exceeded expectations -- very satisfied. (Posted on 24/09/2021)
Quick delivery love that you can order a fabric sample before you buy for a very small charge (Posted on 03/09/2021)
Lovely tie (Posted on 30/07/2021)
The tie waistcoat combo looks fab. A very happy purchaser. (Posted on 25/03/2021)
Would definitely use again (Posted on 20/01/2021)
Beautiful tie. Lovely colour and fabric, perfect for my groom. Delighted with it. Speedy delivery too. Would definitely recommend. (Posted on 11/09/2020)
Good and short.
It is nice and I'm really good looking
Thank you (Posted on 04/04/2020)
Very snazzy tie. (Posted on 12/03/2020)
Good quality tie to match the waistcoat (Posted on 04/10/2019)
Delivered in 3 days.
Excellent packaging. No creasing.
Extremely good quality.
Colour match perfect with waistcoat.
Width as specified on website.
Will definitely order from you again when the occasion arises. (Posted on 18/09/2019)
Good (Posted on 04/09/2019)
Bought to go with matching waistcoat for my son's 6th form Prom. Lovely quality and got him plenty of compliments! (Posted on 14/07/2019)
This was bought as an accessory for the waistcoat of the same design. I am more than pleased with the quality of the product and look forward to wearing it on a "much looked forward to event" in the near future. (Posted on 29/05/2019)
Ordered two for both my sons for their sister's wedding. Very happy with ties. Look very nice, fancy but not too much pattern. (Posted on 09/05/2019)
Excellent quality and service (Posted on 03/05/2019)
Great choice
Fantastic fast delivery (Posted on 07/03/2019)
Why Buy From Us?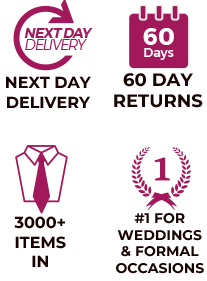 Product Description
Short Description
Brand: Abel & Burke
Regular Width 8cm or Slim Width 5.5cm
Fabric: Woven Microfibre Material
Product Care: Dry Clean
Swirl Leaf Wedding Tie
Perfect for Weddings and Other Formal Occasions. Matching Pocket Squares, Ties, Bow Ties and Cravats Also Available.
Additional Information
Additional Information
| | |
| --- | --- |
| Item Type | Tie |
| Main Colour | No |
| Dimensions | No |
| brand | Abel & Burke |
| Age Group | Adult |
| Gender | Male |
| Widest Width | No |
| Material | No |
| Pattern | No |
| Model Number | t1000-config |
| Event | No |
| Process | No |
| Tied | No |
| Chest Size | No |
| Collar Size | No |
Reviews
Customer Reviews
Good quality. Exceeded expectations -- very satisfied. (Posted on 24 September 2021)

Quick delivery love that you can order a fabric sample before you buy for a very small charge (Posted on 3 September 2021)

Lovely tie (Posted on 30 July 2021)

The tie waistcoat combo looks fab. A very happy purchaser. (Posted on 25 March 2021)

Would definitely use again (Posted on 20 January 2021)

Beautiful tie. Lovely colour and fabric, perfect for my groom. Delighted with it. Speedy delivery too. Would definitely recommend. (Posted on 11 September 2020)

Good and short.
It is nice and I'm really good looking
Thank you (Posted on 4 April 2020)

Very snazzy tie. (Posted on 12 March 2020)

Good quality tie to match the waistcoat (Posted on 4 October 2019)

Delivered in 3 days.
Excellent packaging. No creasing.
Extremely good quality.
Colour match perfect with waistcoat.
Width as specified on website.
Will definitely order from you again when the occasion arises. (Posted on 18 September 2019)

Good (Posted on 4 September 2019)

Bought to go with matching waistcoat for my son's 6th form Prom. Lovely quality and got him plenty of compliments! (Posted on 14 July 2019)

This was bought as an accessory for the waistcoat of the same design. I am more than pleased with the quality of the product and look forward to wearing it on a "much looked forward to event" in the near future. (Posted on 29 May 2019)

Ordered two for both my sons for their sister's wedding. Very happy with ties. Look very nice, fancy but not too much pattern. (Posted on 9 May 2019)

Excellent quality and service (Posted on 3 May 2019)

Great choice
Fantastic fast delivery (Posted on 7 March 2019)

Delivery & Returns
DELIVERY TIMES
UK (In Stock) - Next Day if ordered before 1pm.
UK (Out of Stock) - upto 3 Business Days
Europe – 9 days
Worldwide – Up to 3 weeks
Delivery Times - Why are delivery times not quicker?
We stock 95% of the products we sell online, if the product is in stock we will send it out that day (if it is a weekday) via royal mail first class which is usually next day delivery. The other 10% of our products we order in specially from our UK wholesalers. These are received by us in 2 days and then sent out to our customers. If your order is required in less than 3 working days please e-mail us first to check stock availability.
DELIVERY COSTS
What we charge for delivery is what it costs us for the delivery of the orders to you. We operate a 1 delivery charge (£2.95 per order) policy so you will only ever pay 1 delivery charge (The largest delivery charge will be used).
PACKAGING
We will always endeavour to keep your orders on time, well packed and undamaged. You can expect from us:
Items to be securely packed with bubble wrap or an air bag system.

Boxes marked clearly if items are fragile or heavy.

Use of eco-friendly packaging materials.
REFUNDS & RETURNS
If the item is not what you wanted or doesn't quite fit you can return it back to us at your cost for a full refund. All we ask is that you put your full name and address on a note in the box with a brief explanation to let us know why you are returning the item.
If we supply you with a damaged/faulty item or the item is not as described we will pay for the return delivery and issue a full refund.
For more details on your rights as a buyer see 'The consumer contracts regulations'.
Goods that are returned back to us are the customer's responsibility. If goods are returned to us and are damaged it is your responsibility to claim the cost back from the courier. Please ensure goods are well packed when returning them back to us to prevent any complications.
If sending goods by post please ensure you use a postal service that requires a signature.
Returns
ANY RETURNS ARE SENT BACK AT YOUR OWN RISK, WE DISCOURAGE SPECIFICALLY NOT TO USE HERMES DELIVERY COMPANY.
Products can be returned back to us within 60 working days providing they are unused and in their original condition.
To return an order ensure the products are well packed and include a note in the box with your name and postcode. We would recommend returning using a 'Royal Mail Signed For' service
Our returns address is:
Why Buy From Us?